When it comes to people who are serious about liveaboard sailing or blue-water sailing, one of the most important things to their lifestyle is having the right equipment. One of the most important pieces of equipment that sailors have on their vessels include devices that make use of water like showers, sinks, and cleaning materials. However, obtaining fresh water may be difficult for boaters. Fortunately for people in this situation, there are many personal desalination devices to choose from. Our desalination system experts are here to detail how you could begin to take advantage of these machines. Continue reading below to learn more.
What Is a Personal Desalination System?
A personal desalination system is one that allows people to create water for themselves or for the guests on the boat. There are many ways that you could use a personal desalination system, with the most effective way being a reverse-osmosis system. All sailboat desalination and watermaker systems follow this principle. These systems use the latest technology to perfect the reverse osmosis system to give boaters pure drinking water. These personal desalination devices are installed onto the boat so that they can generate water seamlessly for use. This means that systems like showers and sinks work effectively while using high-quality and purified water that is fit for drinking.
Which Personal Desalination Machine Is Right for Me?
There are many different personal desalination machines that you could choose from, but the right one for you depends on your setup and what kind of power you primarily use on a boat. To further illustrate this point, we have compiled the following list with the pros and cons of all of the options we have available.
AC – Driver Systems – These kinds of systems are best for boaters that regularly run a generator. AC – Driver Systems require electronic installation that should be thoroughly reviewed before making your decision.
Belt -Driven Engine Systems – Belt-driven systems produce large amounts of water without a generator or battery strain. While this is a huge perk, installation is notoriously difficult due to the limited spaces around the engine.
12/24 Volt DC Systems – These are the most versatile systems that we offer. Energy-recovery systems are more efficient.
Some of our most popular products in these categories include: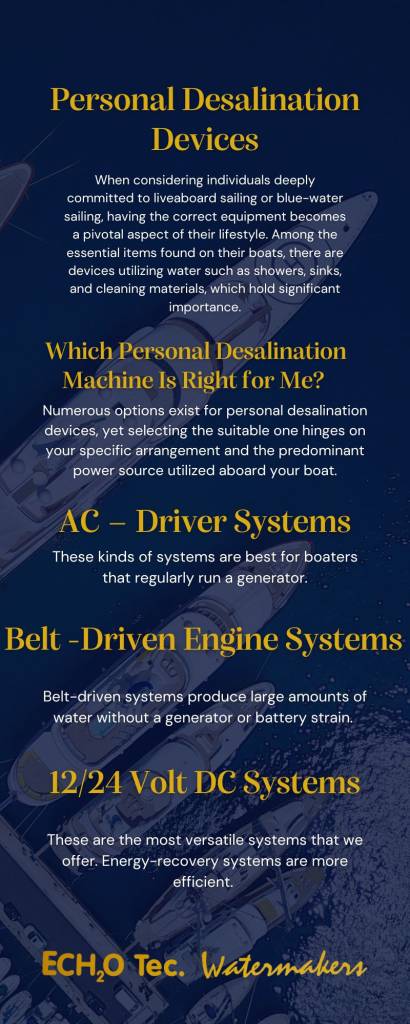 More About ECHOTec Watermakers
ECHOTec Watermakers is an experienced manufacturer of engine-driven watermakers, personal desalination systems and home desalination systems. No matter the kind of personal desalination device that you are interested in, our professionals could assist you today. We are here to make sure that our customers receive the best products, attention and customer service from our professionals. Contact our experts today to learn more about personal water desalination and sailboat desalination. Customer satisfaction is our number one goal so never hesitate to reach out, one of our representatives will be at the phone ready to answer any questions that you may have.
Related Readings